The Operation Donation program was designed to inspire young adults to learn about the positive impacts of organ, eye and tissue donation and hopefully register as donors when given the opportunity. The youth-educating youth approach is far more effective than conventional methods because the information comes from their peers. Ultimately, with this comprehensive education process beginning at an impressionable age, we will inspire these young adults to register as organ, eye and tissue donors when given the opportunity to get their Driver's License or ID cards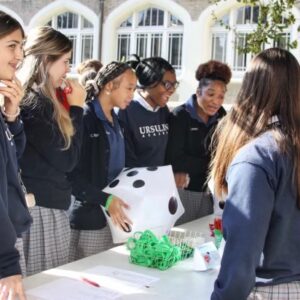 at the Office of Motor Vehicles.
Youth Advocates receive education and participate in discussions regarding donation. They are then guided to develop creative ways to educate their own student population. They work together to plan and implement an awareness program at their schools.
Students will be given a starter kit and a budget to implement activities on their campus. There will be points awarded based on the types of activities, measurable outcomes and spirit shown. The schools with the most points in a year will be awarded trophies and certificates to recognize their hard work.
If your school is interested in the Operation Donation Program and would like to identify Youth Advocates to work with our staff, please contact us for grant opportunities (504) 558-8900.
Some amazing benefits of the program include:
Student Advocates will be able to count volunteer hours to school courses or for extra credit

The Youth Advocacy program will be an excellent project for students to put on their resume

The Legacy Donor Foundation/Donate Life Louisiana will provide a letter of recognition for each participating student to be used in college applications and job prospecting as needed.

Students, along with the assistance of the Legacy Donor Foundation's liaison, will recruit a Teacher Advocate and form a Donor Awareness Club to assist in implementing donor awareness activities and programs.

The Youth Advocacy program will not only educate students about organ, eye and tissue donation but about becoming a leader in their community and with their peers.

Students will learn the importance of advocating for a cause and how they can influence a positive change in society.

The Youth Advocacy program will develop well-informed young adults by preparing them to make responsible health decisions, by educating them on accepting their right and responsibility as donors and by informing them of the benefits that providing more registered donors has to those waiting for transplants.

Awareness activities will be decided on by student advocates. Some examples include: distributing heart-shaped suckers for National Donor Day (Valentine's Day), surveys, decorating a Donate Life bulletin board on campus, displaying of brochures/flyers and posters, announcements on speaker or publications, tables with information and giveaways, youth videos, speaker at assembly, workshops, social media and unique school events such as a fashion show, flying a Donate Life flag on campus, and Blue and Green dress down day. Other events are also welcomed.